ACDL – 20 Years of Advancing the Disability Rights Movement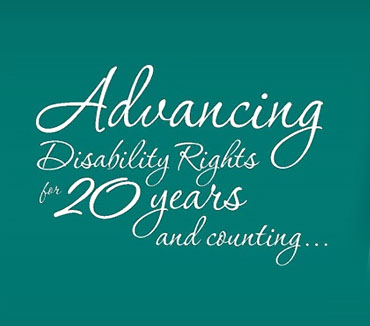 In 1995, the ACDL became its own stand alone non-profit public interest law firm assisting Arizonans with disabilities in asserting their legal and civil rights. We were formerly one organization, the Arizona Center for Law in the Public Interest.
For 20 years, the ACDL has strived to reduce systemic barriers for individuals with disabilities and to achieve justice,
Some highlights of ACDL's work in the past 20 years include:
The Center and the EEOC challenged Wal-Mart's failure to hire two young men because they were deaf. The lawsuit resulted in a favorable settlement requiring Wal-Mart to hire the young men and adopt antidiscrimination policies and engage in training. Wal-Mart failed to comply with the policy development and training requirements of the settlement and the following year the Court ordered Wal-Mart to pay a civil fine of over $750,000 for failure to comply and to broadcast a T.V. commercial regarding their discriminatory acts. Fass and Darnell v. Wal-Mart.
88,000 children with disabilities receiving special education services statewide received a boost from a federal court settlement in a case brought by the Center, requiring the Arizona Department of Education to develop a more effective complaint resolution mechanism as well as a monitoring system to ensure that when parents file complaints, their concerns will be fairly addressed. Dunajski v. Arizona Dept. Of Education.
The Arizona Court of Appeals ruled that a homeowners' association violated fair housing laws by failing to make a reasonable accommodation to allow the Center's clients, the Canadys, to purchase a home in a 55+ adult community and live there with their son with a developmental disability who was in his late 20s at the time. Canady v. Prescott Canyon Estates Homeowners Association.
'The Center along with State Attorney General's Office filed a lawsuit against Harkins movie theaters alleging violations of the Americans with Disabilities Act and the Arizonans with Disabilities Act for failure to provide auxiliary aids and services to the blind, deaf and hard of hearing. A settlement was reached that provided captioning and video description devices for all of Harkins theaters in Arizona.
'The Center filed a lawsuit against the State challenging AHCCCS's policy of prohibiting coverage of incontinence briefs for preventative purposes for those ages 21 and over. The Center successfully prevailed at the US District Court which found that AHCCC's policy violated the Medicaid's reasonableness requirements. The State unsuccessfully appealed the decision all the way to the United States Supreme Court. Now, individuals who require incontinence briefs as a medical necessity can receive them.
In addition to our legal work, the ACDL has also advocated for positive change in disability-related public policy. The ACDL staff has provided comments to legislative and regulatory bodies on legislation, rules, and policies affecting persons with disabilities.
The ACDL helped change the laws related to voting rights and the limited guardianship law in Arizona. As a result of the change, some people who are under a limited guardianship may have the right to vote. Furthermore, ACDL has provided self-advocacy training and outreach to persons with disabilities and their families throughout the state.
LAST YEAR ALONE THE CENTER:
Represented 980 people with disabilities with their individual cases
Reached an additional 3,000 people with disabilities and their families through ACDL's education and outreach programs on their legal rights
Benefited thousands of individuals with disabilities through ACDL's work on class action litigation and systemic reform
We look forward to celebrating other milestones in the near future. If you would like more information about ACDL or would like to donate to our mission, please e-mail center@azdisabilitylaw.org.