ACDL Hires New Litigation Director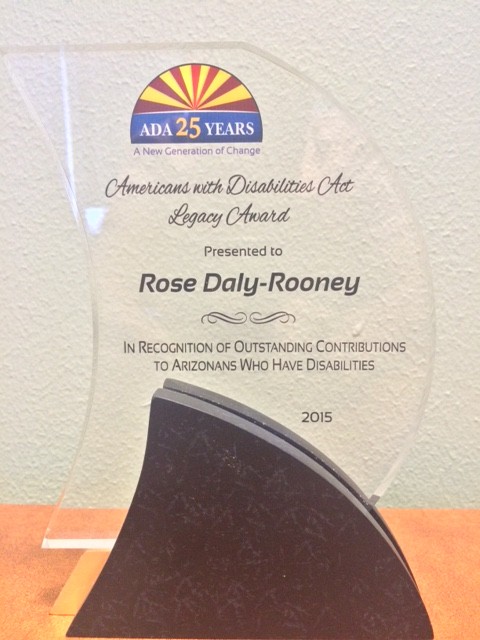 The Arizona Center for Disability Law (ACDL) is proud to announce the hiring of Rose Daly-Rooney as its new litigation director.
Rose is the former Tucson Unit Chief for the Civil Rights Division of the Office of the Arizona Attorney General. Since January 2006, she worked as an Assistant Attorney General in the Litigation and Conflict Resolution Section of the Civil Rights Division where she was responsible for prosecuting discrimination in employment, housing, and public accommodations. Ms. Daly-Rooney has taught Disability Law as an adjunct professor at the James E. Rogers College of Law since 1996. She is also one of the authors of the Arizona Employment Law Handbook and served on the Employment and Labor Section's CLE Committee for four years. Prior to joining the Arizona Attorney General's Office, she worked at the Arizona Center for Disability Law from 1994-2005, first, as a staff attorney and later, as a supervisor of the Employment and Fair Housing unit. Ms. Daly-Rooney graduated from the University Of Arizona College Of Law in 1994.
Rose has dedicated her 20-year legal career to the advancement of disability rights in Arizona. Her work has effectuated positive changes on behalf of individuals and classes of persons with disabilities. I have had the pleasure of working with Rose for the past fourteen years. During this period of time, Rose has always demonstrated a history of engaging in efforts related to advocacy, empowerment, independence, and promotion of self sufficiency for people with disabilities through her legal work. Most recently, Rose received the honor of the Americans with Disabilities Act Legacy Award in recognition of her outstanding contributions to Arizonans with disabilities.
Please welcome Rose Daly-Rooney as she continues to advance the disability rights movement in Arizona.