National GoVoter Project Announces Results of 2018 Voter with Developmental Disabilities Survey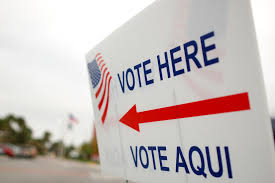 Self Advocates Becoming Empowered (SABE) released a national report on the voting experiences of people with developmental disabilities (DD). This report shows that voters with DD continue to have problems voting. Learning about these experiences helps election officials improve their voting services.
"Examples of problems voters tell us in the report are not being able to enter their polling locations, not having privacy to vote, not being able to understand and read the ballot" says Teresa Moore, Director of SABE'S GoVoter Project. "Correction of many of these problems will not require a lot of money. It does require a commitment by election officials to make them a priority to act on."
Nationally, 1,171 surveys were collected from 46 states.• #1-way voters with DD prefer to vote is at polling locations
• #1 accessibility issue is lack of accessible parking
• #1 problems with accessible voting equipment is "no headsets and poll worker not knowing how to turn the machine on"
• 90% or 9 out of 10 voters feel good about their voting experience
• 40% or 4 out of 10 voters report problems using and understanding the ballot
• 26% or almost 3 out of 10 voters have a court-appointed guardian
• Voters with DD with full-time employment are more likely to vote
• Voters living in an apartment by themselves are more likely to vote
A complete report of this study is now available https://www.sabeusa.org/govoter/surveys/ If you are interested in this report and/or state specific voter experience results, contact govoter@sabeusa.org .