Department of Justice Settles with Amtrak to Resolve Station Accessibility Problems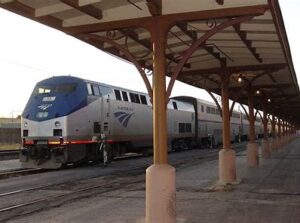 People with mobility disabilities who were harmed by inaccessible Amtrak stations can submit claims for monetary compensation from Amtrak until May 29, 2021.
The United States Justice Department recently found that Amtrak, the National Railroad Passenger Corporation, engaged in disability discrimination in violation of the Americans with Disabilities Act (ADA). Amtrak was given twenty years after the ADA was passed in 1990 to make its train stations accessible. However, according to the Justice Department, Amtrak violated the ADA by failing to make its stations accessible to individuals with disabilities, including individuals who use wheelchairs. The Justice Department settled with Amtrak to resolve its findings of disability discrimination on December 2, 2020.
What has Amtrak agreed to do under the Settlement?
Under the Settlement Agreement, Amtrak agreed to modify specific policies, practices, and procedures to comply with Title II of the ADA, 42 U.S.C. §§ 12131-12165, and corresponding regulations, 49 C.F.R. Part 37.
Specifically, Amtrak committed to:
Fix inaccessible stations, prioritizing stations with the most significant barriers to access;
Design at least 135 stations to be accessible and complete construction at 90 of the stations over the next 10 years;
Train employees on ADA requirements;
Implement a process for accepting and handling ADA complaints; and
Pay $2.25 million to individuals hurt by its inaccessible stations.
From January 29, 2021 to May 29, 2021 Amtrak will accept claims for monetary compensation from people with mobility disabilities who traveled, or wanted to travel, to or from one of the 78 Amtrak stations listed below and encountered accessibility barriers.
Am I eligible for monetary compensation?
To be eligible to monetary compensation from Amtrak under this settlement, a person must:
Have a mobility disability;
Be harmed physically or emotionally because of accessibility issues at one or more the 78 Amtrak stations listed below between July 27, 2013 and December 2, 2020. Covered accessibility issues include: inaccessible parking; steep slopes or steps to get to the station; lack of directional signs; bathrooms with inaccessible entrances, stalls, or sinks; high ticket counters; deteriorated platforms; and narrow routes at stations; and
Have lived at, visited, or desired to visit a place that is closer to one of the 78 stations listed below than an accessible Amtrak station.
Which Amtrak stations are covered for claims?
The following Amtrak stations are the 78 stations that had the most significant barriers to access:
Alabama: Tuscaloosa; Arizona: Yuma; Colorado: Fort Morgan, Glenwood Springs, Granby; Connecticut: Old Saybrook, Windsor, Windsor Locks; Delaware: Newark; Georgia: Gainesville, Jesup, Toccoa; Illinois: Centralia, Effingham, Gilman, Homewood, Mattoon, Plano, Princeton, Rantoul, Summit; Indiana: Connersville, Crawfordsville, Elkhart, Hammond-Whiting, Waterloo; Iowa: Burlington, Creston, Mount Pleasant; Kansas: Newton, Topeka; Kentucky: Maysville, South Shore-South Portsmouth; Louisiana: Lake Charles; Maryland: Aberdeen, Cumberland; Michigan: Niles; Minnesota: Detroit Lakes, St. Cloud, Staples; Mississippi: Picayune; Missouri: Kirkwood, La Plata, Poplar Bluff; Montana: Cut Bank, East Glacier Park, Malta; Nebraska: Holdrege; Nevada: Elko; New York: Hudson, Plattsburgh, Port Henry; North Dakota: Devils Lake; Pennsylvania: Coatesville, Downingtown, Johnstown, Lewistown, Parkesburg; Rhode Island: Westerly; South Carolina: Dillon; Texas: Alpine, Marshall, McGregor; Utah: Helper; Vermont: Castleton, Montpelier; Virginia: Ashland, Clifton Forge, Petersburg, Richmond Staples Mill Road; Washington: Bingen-White Salmon, Kelso-Longview, Wishram; West Virginia: Charleston, Harpers Ferry, Hinton; Wisconsin: Columbus, Tomah.
If I am eligible, how do I submit a claim?
Submit a claim form and declaration by mail, fax, email, or online to the Fund Administrator:
Help is available from the Fund Administrator for those who are unable to complete the claim form due to a disability.
Is there a deadline for submitting a claim?
Yes. Claims must be submitted by no later than May 29, 2021.
Where can I find additional information?
Additional information about the Settlement and claims fund can be found at the resources listed below.
DISCLAIMER:
THIS BLOG/WEB SITE IS MADE AVAILABLE BY ACDL AND ITS LEGAL STAFF FOR EDUCATIONAL PURPOSES TO GIVE YOU GENERAL INFORMATION AND A GENERAL UNDERSTANDING OF THE LAW, NOT TO PROVIDE SPECIFIC LEGAL ADVICE. BY USING THIS BLOG SITE, YOU UNDERSTAND THAT THERE IS NO ATTORNEY-CLIENT RELATIONSHIP BETWEEN YOU AND ACDL. THE GENERAL INFORMATION ON THE BLOG/WEBSITE SHOULD NOT BE USED AS A SUBSTITUTE FOR COMPETENT LEGAL ADVICE FROM A LICENSED PROFESSIONAL ATTORNEY IN YOUR STATE. COMMENTING ON A POST DOES NOT CONSTITUTE AN INTAKE WITH ACDL. IF YOU WOULD LIKE TO REQUEST LEGAL ADVICE OR SERVICES CLICK HERE FOR INFORMATION ABOUT OUR INTAKE STEPS.