Low-Income Households Can Receive Lower Internet Bills Through the FCC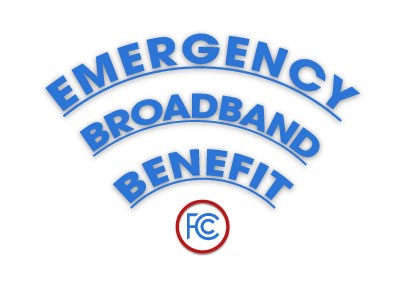 On May 12, 2021, the Federal Communications Commission (FCC) created a new program called the Emergency Broadband Benefit (EBB), designed to help qualifying low-income households receive discounts on their monthly internet and broadband service bills.
The program aims to remove the price barrier to reliable internet service that many low-income and underprivileged households face during the COVID-19 pandemic. For people with disabilities who meet the EBB program criteria, this can mean critical assistance in obtaining reliable internet that will help secure access to services like video phone calls, telehealth appointments, and the ability to access disability-related goods and services online, all at a reduced internet rate. The EBB program is temporary and will continue until the funding for the program runs out.
What can I receive?
Up to $50/month discount every month on broadband services and equipment rentals
Households on Tribal lands receive up to a $75/month discount every month
Participating broadband service providers can be reimbursed up to $100 if they provide a household with a connected device (e.g., laptop, desktop computer, tablet), as long as the household spends more than $10 but less than $50 for the device. To take advantage of this benefit, it must be done through your participating broadband service provider, and you must contribute part of the cost for the connected device.
Who's eligible?
OR
A member of the household participates in one of the following programs:

Supplemental Nutrition Assistance Program (SNAP)
Medicaid
Lifeline
Supplemental Security Income (SSI)
Federal Public Housing Assistance (FPHA)
Veterans Pension and Survivors Benefit
Tribal programs (and you live on qualifying Tribal land)
Eligible for a participating broadband provider's existing low income or COVID-19 program
OR
A member of the household meets one of the following criteria:

Approved to receive benefits under the free and reduced-price school lunch or breakfast program
Received a federal Pell Grant
Experienced a substantial loss of income due to job loss or furlough beginning February 29, 2020
How do I apply?
You can apply in one of three ways:
Contact participating broadband providers directly to find out more about their application process. You can find participating providers near you by clicking
Go to gov to apply online.
Call 833-511-0311 to receive a mail-in application or you can print a copy here. You can mail your application with proof of eligibility to:
Emergency Broadband Support Center
PO Box 7081
London, KY 40742
Additional information
DISCLAIMER:
THIS BLOG/WEBSITE IS MADE AVAILABLE BY ACDL AND ITS LEGAL STAFF FOR EDUCATIONAL PURPOSES TO GIVE YOU GENERAL INFORMATION AND A GENERAL UNDERSTANDING OF THE LAW, NOT TO PROVIDE SPECIFIC LEGAL ADVICE. BY USING THIS BLOG SITE, YOU UNDERSTAND THAT THERE IS NO ATTORNEY-CLIENT RELATIONSHIP BETWEEN YOU AND ACDL. THE GENERAL INFORMATION ON THE BLOG/WEBSITE SHOULD NOT BE USED AS A SUBSTITUTE FOR COMPETENT LEGAL ADVICE FROM A LICENSED PROFESSIONAL ATTORNEY IN YOUR STATE.  COMMENTING ON A POST DOES NOT CONSTITUTE AN INTAKE WITH ACDL.  IF YOU WOULD LIKE TO REQUEST LEGAL ADVICE OR SERVICES CLICK HERE FOR INFORMATION ABOUT OUR INTAKE STEPS.