Jean Fairfax, Civil Rights Pioneer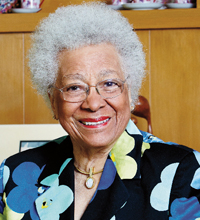 ACDL celebrates the life and work of Jean Fairfax, an unsung heroine of the civil rights movement.  Ms. Fairfax committed her life to civil rights and social justice. She was a force for over 40 years from organizing black families in school desegregation cases in rural communities and led the effort to reform the National School Lunch program.
Her work with both the NAACP Legal Defense Fund and the American Friends Service Committee allowed her to be committed to a lifetime work of fundamental fairness and simple justice. Ms. Fairfax's dedication to civil rights led her to provide funding to the first African American Conference on Disabilities in early 2000. Due to her contribution, this event evolved into the nationally recognized conference that African American Conference on Disabilities Conference is today.
Ms. Fairfax grew up in Cleveland, Ohio; her parents were the first in their families to be born legally free. She attended the University of Michigan, and then attended to Union Theological Seminary.  After college, she worked as the Dean of Women at Kentucky State College and then held the same post at Tuskegee University. It was during this time that Ms. Fairfax found her passion for protecting civil rights and education rights.
She later moved to Phoenix to join her sister, Betty Fairfax, who was one of the first black teachers in the Phoenix Union High School District.  There, they established the Betty H. & Jean E. Fairfax Fund for Educational Equity and the Black Legacy Endowed Fund through the Arizona Community Foundation.
It is through her work that we continue our work. Thank you, Jean.
"Someone had to break the pattern, and very often the civil rights revolution was initiated by the most vulnerable Black persons. Many of them were women and many of them were children—tough, resilient, hopeful, beautiful children. The greatest experience of my life was standing with them as they took the risks."—Jean Fairfax