Cochise County Elections Fails Voters with Disabilities by Prohibiting Curbside Voting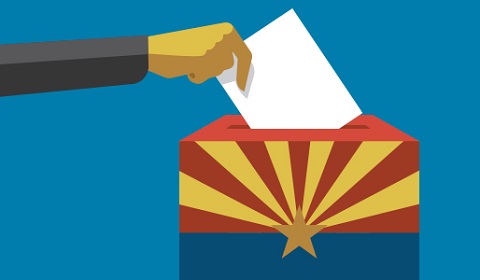 The Arizona Center for Disability Law (ACDL) recently filed a lawsuit in U.S. District Court under the Americans with Disabilities Act (ADA), Section 504 of the Rehabilitation Act of 1973 (Section 504), and the Arizona Civil Rights Act against Cochise County for denying Kathleen Hoffard, a voter with disabilities, the right to vote curbside in the November 2018 election, and upcoming November 2020 election.  A copy of the First Amended Complaint is here.
As part of its federal mandate, ACDL works to ensure that Arizonans with disabilities have equal access to participation in the electoral process.
Ms. Hoffard, who is a resident and registered voter in Cochise County, was denied the ability to vote curbside on Election Day in 2018, due to her physical disabilities that make it difficult for her to walk and safely navigate a polling location.  When she requested to vote curbside, Cochise County officials stated curbside voting was no longer offered anywhere in the County and that all the vote centers in the County were 100% ADA accessible.
In previous elections, Ms. Hoffard had participated in curbside voting due to her disabilities and plans to participate in in-person voting in the 2020 General Election.
The risks from COVID-19 pandemic disproportionately impact people with disabilities. As the November General Election draws near, and in the face of continued threats to public health from the COVID-19, it is more important than ever that local governments comply with the law and provide voters with disabilities the reasonable modifications that are necessary to ensure equal access to the ballot, including to in-person voting.
Providing access for people with disabilities to vote merely at some time and in some way is not sufficient under the law; jurisdictions may not afford people with disabilities services that are not equal to those afforded others under the law. This means that reasonable modifications, such as curbside voting, must be provided where necessary to allow voters with disabilities the same opportunity to vote in person as other voters.
Ms. Hoffman is also a person with compromised immune function due to disability. Ms. Hoffman and other Cochise County voters with disabilities who may need reasonable modifications that allow them to safety vote in person, including curbside voting, must be afforded such reasonable modifications.
"All people who registered to vote should have equal access to do so in person", said Sey In, Staff Attorney. "In Cochise County, people who live with disabilities and wish to vote in person on Election Day are currently faced with the possibility of disenfranchisement due to the County's blanket policymaking curbside voting unavailable for individuals who may need it as a reasonable modification due to their disabilities, especially given the COVID-19 situation in Arizona."
If other voters with disabilities registered in Cochise County are concerned that they will not be able to vote curbside in the November 2020 General Election, they are encouraged to call ACDL at 1-800-927-2260 or visit this link for how to request ACDL's help.
For more information, visit ACDL's Voting Rights Information site at https://www.azdisabilitylaw.org/voting-rights-information/.
To register to vote using ACDL's Virtual Voter Registration URL, go to this link https://servicearizona.com/VoterRegistration/selectLanguage?id=ACDL .