COVID-19 Vaccination Sites: Accessibility and Accommodation Resources for People with Disabilities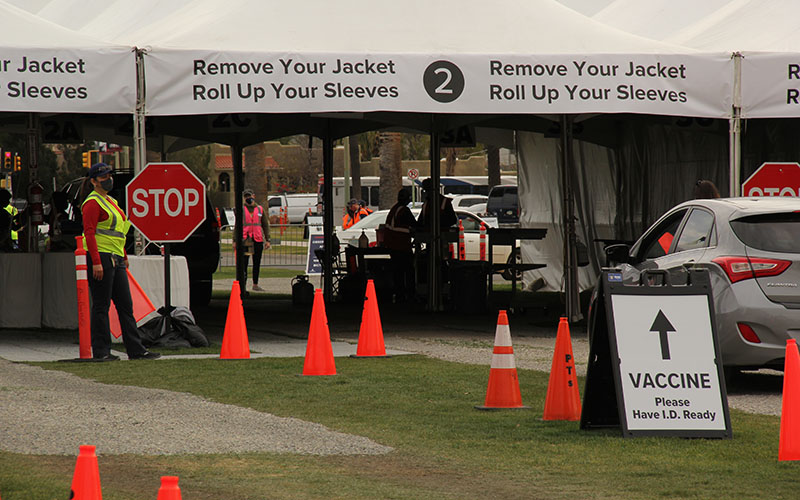 Eligibility for the COVID-19 vaccine was recently expanded in Arizona to include all individuals 16 and older at State-operated vaccination sites in Maricopa, Pima, and Yuma counties. Each county also operates additional vaccination sites and may have different prioritizations, so it is important to check with your county health department about vaccine eligibility if you intend to sign up for an appointment through your county. The expansion of eligibility is a tremendous step forward in getting all eligible Arizonans vaccinated. Consideration and planning are required to ensure that Arizonans with disabilities have equitable access to vaccination sites and don't face difficulties with accessibility or obtaining reasonable accommodations when needed.
The Arizona Center for Disability Law (ACDL) along with other disability rights organizations remain concerned about accessibility issues at vaccination sites. State and county-run sites must meet obligations under Title II of the Americans with Disabilities Act (ADA), as well as other federal and state laws prohibiting disability discrimination. These obligations include providing reasonable accommodations and auxiliary aids and services (such as sign language interpreters, video remote interpreting, braille) for people with disabilities. Retail pharmacies offering vaccination appointments must also meet similar obligations under Title III of the ADA.
A vaccination site should offer the following to individuals with disabilities, as necessary to ensure equitable access to the vaccination process:
An accessible appointment registration process, including an accessible website for people who use screen-reading technology, and an alternative registration process for people who do not use a computer;
Physical accessibility, including wheelchair and van access;
Provision of reasonable accommodations where necessary due to a disability (e.g., allowing service animal to accompany patient, providing a reader or a scribe for filling out paperwork, offering an alternative to drive-thru service); and
Provision of auxiliary aids and services needed to ensure effective communication (e.g., pen/paper, printed instructions, large-print materials, Video Remote Interpreting, ASL interpreters).
We recommend that you call the entity providing the vaccination service to request a reasonable accommodation ahead of your appointment time. If you visit a vaccination site and encounter difficulty obtaining a reasonable accommodation or auxiliary aid or service needed due to a disability, it may be helpful to provide the personnel staffing the site the Pacific ADA Center "Accessibility At Drive-Thru Medical Sites" Guide available here. The Guide provides some best practices for vaccination sites, including:
Staff training on disability etiquette.
Providing means for individuals with disabilities to make accommodation requests.
Ensuring site locations are both wheelchair and van accessible.
Providing effective communication and accessible materials for people who are blind, deaf, or hard of hearing.
If you experience an accessibility problem or are unable to obtain a needed reasonable accommodation or auxiliary aid or service at a vaccination site in Arizona, please contact ACDL at 602-274-6287. You can also fill out an online intake located here.
Additional COVID-19 Vaccine Resources:
The Arizona Commission for the Deaf and the Hard of Hearing (ACDHH) has vaccination-related resources. Click here to see all of ACDHH's COVID-related resources. For ACDHH's vaccination communication card, please click here.
For information on how to contact your county, please use this resource from the National Association of County Health Officials (NACCHO), click here.
DISCLAIMER:
THIS BLOG/WEB SITE IS MADE AVAILABLE BY ACDL AND ITS LEGAL STAFF FOR EDUCATIONAL PURPOSES TO GIVE YOU GENERAL INFORMATION AND A GENERAL UNDERSTANDING OF THE LAW, NOT TO PROVIDE SPECIFIC LEGAL ADVICE. BY USING THIS BLOG SITE, YOU UNDERSTAND THAT THERE IS NO ATTORNEY-CLIENT RELATIONSHIP BETWEEN YOU AND ACDL. THE GENERAL INFORMATION ON THE BLOG/WEBSITE SHOULD NOT BE USED AS A SUBSTITUTE FOR COMPETENT LEGAL ADVICE FROM A LICENSED PROFESSIONAL ATTORNEY IN YOUR STATE.  COMMENTING ON A POST DOES NOT CONSTITUTE AN INTAKE WITH ACDL.  IF YOU WOULD LIKE TO REQUEST LEGAL ADVICE OR SERVICES CLICK HERE FOR INFORMATION ABOUT OUR INTAKE STEPS.